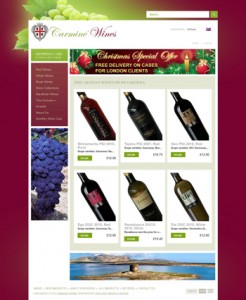 Recently we completed and launched a website for a brand new customer, Carminé Wines. Design and development began on 3rd November and was completed in under 6 days, and the web site went live in time for the BBC Good Food Show at Kensington Olympia on 9th November.
Carminé Wines import and distribute fine artisan wines from Sardinia.
Comment from the owner of Carminé Wines:
"looks beautiful… well done
best rgds
Alessandro"
The Carminé Wines website is based on Zen Cart™ technology.
UNFORTUNATELY DUE TO SUPPLY ISSUES CARMINÉ WINES HAS CEASED TRADING