Domain name services
All domain names you can register are sub-domains of a Top-Level Domain (TLD). Geographically specific TLDs are intended for organisations that are either headquartered or trading in a particular country. However, for some industries, the geographically specific domains provide a meaningful extension. For example, Tuvalu domains (.TV) often gets used by television and video production companies.
For organisations based in the United Kingdom, the most recognised TLD is .UK, often broken down into Second Level Domains (SLDs) such as .co.uk, .org.uk, .ltd.uk etc. But, since 2014 it has been possible to register domains with the .UK TLD.
.COM, .ORG, .BIZ, .INFO etc. Domain Names
Domain names in other major TLDs are also provided via our virtco.com brand which can be registered by going to the online store at virtco® domain search. Please note that charges vary depending on the domain extension required.
.UK Domain Names
With over 20 years experience as a registrar of .uk domain names, having been a Nominet member organisation since 1999, and a Nominet Accredited Channel Partner ever since the channel partner program was introduced. We have the ability to provide a complete end-to-end domain service providing domain name registration, primary and secondary DNS configuration and management, domain name renewal and all other domain name management functions.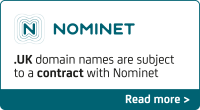 Schedule of Charges for .UK Domain Names
For domain registrations within the standard .UK SLDs and the .UK TLD, we charge £15.00 +VAT for two years and charge £15.00 +VAT for each subsequent two-year renewal. Within our domain registration and renewal charges, we provide both primary and secondary DNS services to ensure that your website, email and other Internet services are continuously accessible.
Service Levels for .UK Domain Names
We acknowledge receipt of all customer communications, requests or complaints within two working days and will complete requests within three working days of the initial contact.